This Godless Communism
Here's a fun little comic from 1961, about the evils of Communism.


It starts with an imaginary tale about the USSA, America taken over by Commies, then proceeds with a fairly detailed (and somewhat imaginary) history of Communism in Russia. The art is varies in quality quite a bit.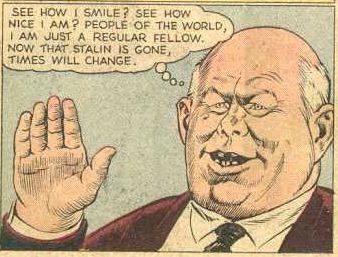 As if the comic wasn't strange enough, there's a Catholic bias to add to the weirdness.
Dad: "And it says all the Catholic priests and sisters are being sent to a labor camp! Those who resist will be killed!"
Mom: "They're doing the same thing with most of the Jewish and Protestant ministers!"